Tickets & Seating
Prices (2007)
$12.00

Club Reserved

Grandstand Sections, First Five Rows

$10.00

Box Reserved

Grandstand Sections, Rows 6+

$7.00

Reserved

Grandstand Sections, Rear rows

$5.00

SRO / Lawn G/A

First & Third Base sides Weather permitting
Capacity

6,915

Single Game Attendance Record

7,064

23.August.2003 (vs. St. Paul)

Game Times

7:05

PM

, 6:05

PM

Tuesdays, 2:05 or 5:05

PM

Sundays
Details
The Experience
Silver Cross Field (2002)
"The Cross"
Joliet Area
Team History
Team Colors:

"Steel Blue"
& "Construction Orange"

Southern Division Semi-Finals:
Cap Logos:

2002-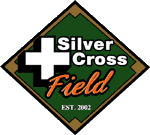 Radio

Brian Dolgin
(Home Games)
John Versteeg
(Away Games)
The original radio voice of the JackHammers, Bryan Dolgin, was "called up to the show" in 2005. "The Voice of Reason" as he was called moved on to be the pre- and post- game voice of the Chicago White Sox. He returned in 2006 for home games.
John Versteeg joined the on air team in 2007.
Collectibles
Bobbleheads

Complete

Card Sets

Complete

Lapel Pins

Missing "Inaugural Season" pin

Pocket Schedules

Complete

Souvenir Programs

Complete
Webmaster visits
Last visit/game attended:

June 20, 2004

First game attended:

July 20, 2002

First Visit (Construction Site):

August 3, 2001

Totals:

4 trips - 8 total games

Online Discussion Forum: