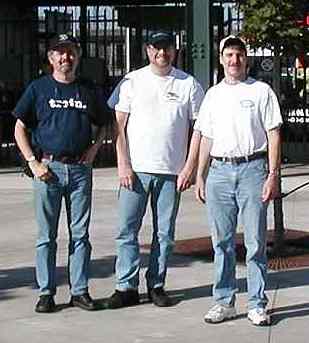 The Three Survivors of the "Ballpark Triangle Tour of Chicago"
There are fans and there are FANS. Some of the most dedicated fans travel to see their team play games on the road. Even more dedicated fans make long, long trips to see their favorite former managers and coaches even though they are with another team.
Such is the case for New Jersey Jackals fans known as (or we'll name) Trumpet Guy, Silent Bob, and the (three) "Jersey Girls." A wild idea was hatched of renting a van to travel as a group to the nearest ballpark to their home: Gary Indiana. Unlike many such great ideas, they actually did it. The alignment of the stars, or simply the Saints and Jackals schedules, allowed them to catch two games at the Steel Yard and visit with their heroes George Tsamis and Jackie Hernandez.
The only question after tickets were lined up was "What should we do during the day between games?" The answer, provided by your webmaster was a "Homeplate Tour" of all the meaningful ballparks in Chicago --"meaningful," that is, to Northern League fans."Homeplate" since there were 5 stops, like the five corners of the base. Along the way these east coast visitors would also get a glimpse of the Chicago area as well as a taste of the ballparks and teams of which there were once a part.
It was a full day, but they did it. They traveled over 100 miles, visited 5 ballparks, and had a trip only a baseball fan could appreciate. This is a brief photo journal of their saga: