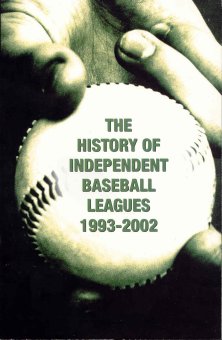 Miles Wolff and David Kemp, editors
Webmaster's review
Order your copy from the publisher Mariah Press.
I finished reading through the season summaries of the book. This only takes a couple hours at most, but is a lot of fun.
There are lots of anecdotes about the rise and fall of the different leagues as well as the names of many people nearly everyone on this board would recognize like Al Galagher, Mal Fichman, Ron Kittle and others.
Those looking for a "reading history" of the Northern or other independent leagues won't get much for their money ($29.95) but those looking for stats will find it invaluable. All players for each league are sorted alphabetically by last name. Many players are buying their own copies so they can use them to report their stats reliably. Standings, championships, all stars, attendance figures are all presented for nearly all years -- not absolutely complete, but an excellent resource none the less. We can hope that a future edition will add to them.
Paperback: Mariah Press, 2003, 480 pages, $29.95

ISBN: 1-893250-07-5
For other references to the Northern League in books and magazines, visit The Northern League Chronicles reading list.
If you know of books not shown here, please .