Winnipeg Stadium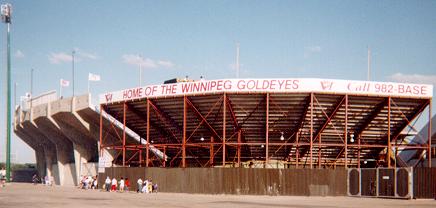 Winnipeg Stadium 1997
Home of the Goldeyes 1994-1998 (and 1969)
Winnipeg Stadium was the home of the Goldeyes for all years prior to 1999. These includes a previous incarnation of the Goldeyes in 1969.
Home of the Minor League Single Game Attendance Record -- 22,081 fans
One of the highlights of the Goldeyes time at this location was setting the world record for single game attendance for a minor league game at 22,081, August 28, 1997 (vs. Sioux Falls) breaking a previous record of 20,749 (August 29, 1995, vs. St. Paul). The team managed to draw over 10,000 fan several other times at here as well including inaugural opening night crowd of 14,764 (June 6, 1994, vs. Duluth).
These pages describe the seating, field and directions for the park during its last run from 1998. Needless to say, all are much happier with the new "Fish Bowl" though there won't be any world records set there.